Posted by SENTRY Products Group on 3rd Apr 2023
At SENTRY, we understand there are many options to choose from when choosing the best rifle magazine for your weapons. Metal, Polymer, Carbon Fiber, and which capacity within the laws will be allowed. Hexmag magazines offer an easy solution to those questions.
The SENTRY® Hexmag® AR magazines are ideal for any sport, competitor or tactical shooters demanding superior strength, proven reliability and exceptional value. Our patented design gives a better grip and can be coupled with our industry leading Hexmag Grip Tape. Other magazine features include a redesigned feed lip geometry to maximize strength and versatility, stripper clip guides for faster reloading, deep catch pocket for rock-solid stability and heat-treated stainless steel spring for extended storage periods.
The AR magazines also feature the Hexmag® patented Tool-Less Design for fast and easy floorplate removal allowing field cleaning and a customizable HexID® Color Ammunition Identification System.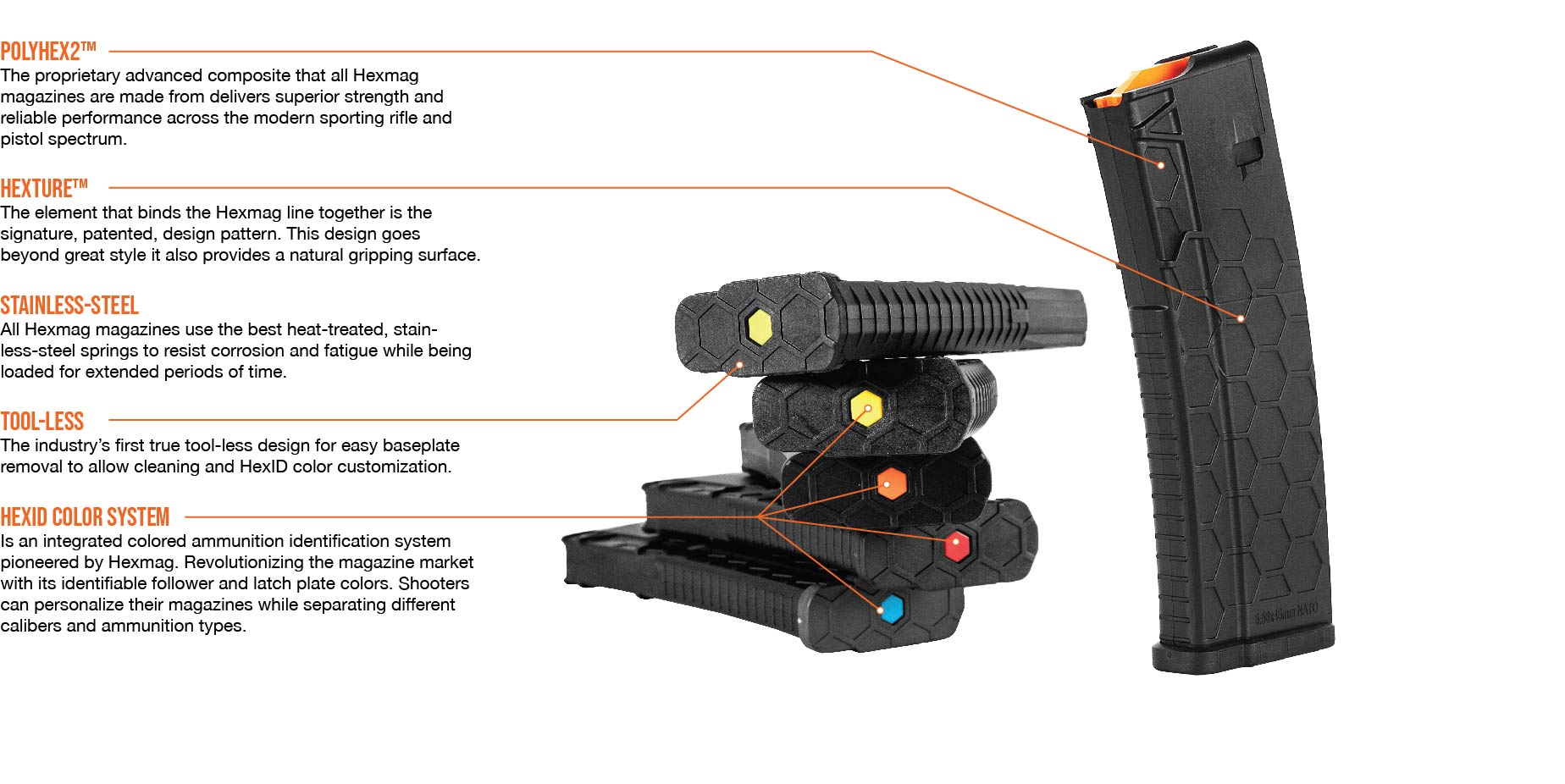 AR15 magazines are available in Black, FDE, OD Green and Gray, for 10, 15 and 30 round capacities, and in also in a shorter Mag Body "Shorty" 10 and 20 round capacities
CALIBERS: .223/5.56x45mm, .300AAC Blackout, .458 SOCOM, .50 Beowulf and more
RIFLES: AR-15s, SCAR 16, IWI Tavor, CZ Bren, Beretta ARX 100 and more
Also available in a 20% lighter weight Black only Carbon Fiber for 10, 15 and 30 round capacities
Made in the U.S.A and backed by a no questions asked LIFETIME GUARANTEE!
We didn't forget about the AR-10 / SR25 / .308 rifles either. Same superior design and PolyHex2 Advanced Composite construction.
AR10 / SR25 / .308 magazines are available in Black and FDE in the "Shorty" 10 and 20 round capacities
CALIBERS: .7.62x51mm, .308 Winchester
RIFLES: AR-10s, SR25, .308